02
jul
Bullish

on Infrastructure Investments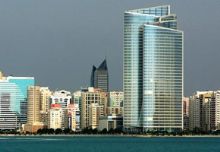 Abu Dhabi Investment Authority (ADIA), one of the world's largest sovereign wealth funds, is bullish on infrastructure and alternative investments in 2014, it said on Tuesday after reporting its 20-year annualised returns fell last year.
Headquartered in the capital of the United Arab Emirates, ADIA manages the surpluses of Abu Dhabi's earnings from oil exports and has assets estimated at $773 billion by the Sovereign Wealth Fund Institute.
Publishing its annual review for 2013, which provides rare insights into ADIA's broad strategy, the fund said alternative investments - those outside mainstream areas such as equities and bonds - achieved their overall target last year. Its hedge fund portfolio delivered strong results despite challenging market conditions.
That trend will continue into this year as global economic conditions stabilise, the fund said.
However, commodity markets - which saw declines in base and precious metals as well as agricultural commodities - created difficulties for most fund managers in 2013, ADIA said, adding that this would probably continue in 2014 until global growth strengthened.
Overall, ADIA's 20-year annualised rate of return as of December 2013 was 7.2 percent, down from 7.6 percent a year earlier. But its 30-year annualised return edged up to 8.3 percent from 8.2 percent.
In 2014, ADIA plans to expand its infrastructure team while improving its risk management capabilities, it said.
"We have built out our investment teams in the illiquid space, such as real estate, infrastructure and, more recently, private equity, adding considerable expertise across geographies and asset specialisation," said Sheikh Hamed bin Zayed al-Nahyan, managing director of ADIA.
"These efforts have strengthened ADIA's ability to take a holistic, global view of its investments, while also allowing us to target more specific opportunities with attractive return characteristics."
Among ADIA's infrastructure investments in developed markets during 2013 were two ports in New South Wales, Australia, which it entered as part of a consortium. It sold its stake in Sydney Airport, taking advantage of market conditions.
ADIA's focus on Australian infrastructure has continued into 2014, with sources telling Reuters in February it was among the bidders for Australia's Queensland Motorways.
The Australian retail and hospitality sector was another area of investment in 2013, as was Chinese real estate, ADIA said; Brazil and Mexico also attracted investment by the fund.
It sold some real estate assets in the United States and deployed additional funds in core and emerging European equities.
ADIA also channelled more investment into its South African equities portfolio, despite weakness in South Africa's currency and labour problems in its mining sector.
The Abu Dhabi fund doubled its exposure limit to Chinese equities from $500 million to $1 billion last year after obtaining approval from the Chinese regulator.
Several new managers were hired in 2013 for ADIA's external equities team including a new head of the Asia ex-Japan portfolio, it said, adding that further hires were planned to help focus on that region's assets.
Source: ArabianBusiness.com