23
mar
The

Air TreQ Blinder from United Safety.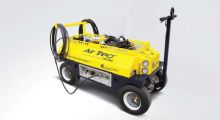 United Safety developed the Air TreQ Blinder it combines a highly portable breathing air delivery system and a pneumatic power source for operating air tools in a small mobile package.Depending on worksite location, the setup for these tasks can take significant amount of time and resources reducing productivity.
The Air TreQ Blinder from United Safety ensuring personnel has required safety equipment and the ability to complete their assigned jobs efficiently is critical to achieving a successful turnaround. Using United Safety's vast experience in turnaround safety, the company identified a frequent bottleneck in short-duration jobs requiring breathing air such as blinding. The setup for these tasks can take a significant amount of time and resources, causing delays and reducing overall turnaround productivity.
Air TreQ Blinder- "For instance, let's take the action of removing a set of bolts from a flange,a very common task during turnarounds. The actual operation should take 10 minutes; however, job tickets indicate that this 10-minute job takes from 30 minutes to 1 hour to complete," said Shayne McCallum, Vice President, North America, at United Safety. "On top of the setup and deployment of safety gear, if electricity is unavailable, a secondary source of pneumatic power has to be set up for tools.If compressed air is not accessible,workers are required to blind or deblind with manual tools,increasing fatigue and risk of injury.This extra time and resources could be freed up to be deployed elsewhere,if the process was more efficient."The challenge was to find a way to improve productivity of short-duration tasks while providing workers with a continuous flow of breathing air to ensure their protection.The answer came in the form of the Air TreQ Blinder, a mobile unit that simultaneously provides both breathing air and air to be used by pneumatic tools.The Blinder provides 1,000 cubic feet of breathing air,which can also be used to operate pneumatic tools in a compact, mobile unit. If more air is required, proprietary Fill-on-the-Fly technology allows the equipment to be refilled while in use, ensuring that the task is not interrupted.The Air TreQ Blinder is designed with plants in mind.Its narrow footprint and small turning radius allow maneuvering in tight spaces.It also has storage space for tools, consumables, safety equipment, or any other job-specific gear the workers need to complete the task at hand.This has led to its positive reception in plant environments.
"The result is increased contractor tool time and improved safety, as set up time is short, and workers do not have to use hand tools or wait for various equipment from the distribution hub or source tools and safety equipment, which are often distributed from different locations. Ultimately, the Air TreQ Blinder helps to improve overall turnaround efficiency and safety," said Tim Wallace, executive vice president,western hemisphere, for United Safety.
Read full article - http://www.unitedsafety.net/blog/2015/03/22/mobile-unit-makes-short-duration-tasks-in-turnarounds-safer-more-efficient-hse-now/