03
feb
United

Safety's Air Qruise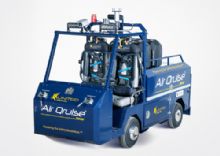 United Safety's Air Qruise Electro-Ex is featured in January's edition of the Oil & Gas Middle East magazine.
The Article points out the 3 key selling points of the electro. The explosion proof capability that allows personnel to transit safely through flammable atmospheres and the ATEX certification that guarantees this capability keeps to EU standards; and the inbuilt gas detection that constantly monitors conditions in the surroundings alerting occupants of possible toxic gases.
The Air Qruise™ Electro-Ex is an electric vehicle that helps improve safety in Immediately Dangerous to Life or Health (IDLH) atmospheres, where toxic and flammable gases increase the risk of explosion. The Air Qruise™ Electro-Ex is an ATEX-certified explosion-proof vehicle, powered by electricity.
In order to constantly monitor atmospheric conditions, the Electro-Ex is also equipped with portable gas detection. If toxic gas is detected, occupants can quickly protect themselves by donning rapid deployment air masks connected to United Safety's state-of-the-art Air Qruise™ technology, the world's first Vehicle Gas Protection System (VGPS).
Read the full article-http://www.unitedsafety.net/wp-content/uploads/2015/01/Three-Reasons-to-Buy-the-Air-Qruise-Electro-Ex.pdf