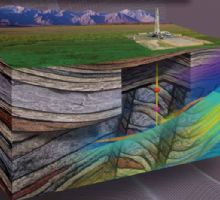 Ryder Scott Established in 1973, is one of the largest, oldest and most respected reservoir-evaluation consulting firms in the petroleum industry. The firm performs more than 1,000 consulting studies a year. Ryder Scott has issued reports on more than 200,000 wells or producing entities in North America.
Ryder Scott is one of the most widely used consulting firms in the world for preparing year-end reserves certifications in accordance with U.S. Securities and Exchange Commission guidelines. In reviews of annual reports, Ryder Scott often was cited as the consultant of record for large national and integrated oil companies and for independents both large and small. The firm determines reserves values to ensure that public disclosures comply with regulatory rules the world.
Ryder Scott Reserves Evaluation Techniques
Ryder Scott typically conducts evaluations using one or a combination of techniques as follows: volumetric; well-performance, including decline-curve and rate-transient analysis; mathematical modeling, including the use of material balance and reservoir simulation; and analogy comparing reservoirs with geologic and/or performance similarities.
Team members may include geophysicists, geologists, petrophysicists, petroleum engineers and economists. In some cases, the team uses a complete suite of geological and engineering data.  In other cases, all that is needed are well-performance histories.  The final step is for the evaluator to cashflow production to generate discounted net present values.  Clients regularly ask for different economic runs under various sensitivities to future sales prices or "price decks" and to operating and capital costs.
Documents / Additional Material

Ryder Scott Reservoir Solutions.pdf